"Tiger Tracks" with a little schnapps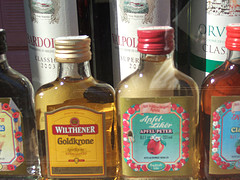 The January issue of a junior high school newspaper in Des Moines, Iowa, came out with a little kick to it. Tiger Tracks included a recipe for hot chocolate that included peppermint schnapps.
Once discovered, school officials pulled all remaining issues off the racks. Stilwell Junior High Principal Tim Miller described the oversight in the editing process as an innocent mistake. The student who submitted the recipe thought schnapps was candy, not liquor.
In 1988 the U.S. Supreme Court decided a case about school censorship and its relationship to student expression on campus. This was the Hazelwood case that dealt with articles written by the school's newspaper staff about teen pregnancy and divorce.
Find out about another case of school censorship involving a yearbook photo of a student holding a can of beer.
Find great resources in our
---