Too young to vote? Then speak out and march!!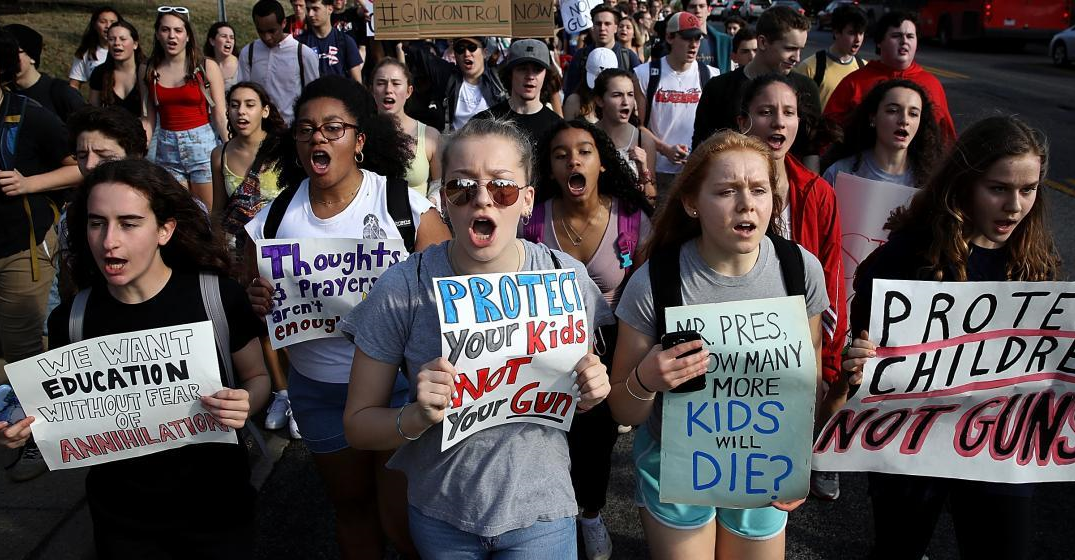 Due to the tragedy at Marjory Stoneman Douglas High School in Parkland, Florida on February 14, 2018, there's a movement afoot. A few brave and outspoken students who lost 17 classmates and faculty members have taken to the airwaves. The media has interviewed and given them a chance to speak directly to local politicians, Congress and the President. Their main message: "Do something" to keep them safe in schools across the country.
Like the Civil Rights movement of the sixties where many of our youth participated, maybe this generation will be able to bring about the change the country so sorely needs regarding reasonable gun control measures. As you know, Congress hasn't lifted a finger since 20 innocents were slaughtered in Newtown, Connecticut in December, 2012. These were six and seven-year-old children massacred with an assault rifle by a lone gunman in their classroom.
For the first time in memory, the students speaking out about last week's school shooting are directing their comments to the National Rifle Association (NRA) and politicians who accept campaign donations from the NRA. They know that politicians are rewarded by the NRA for steering clear of any and all attempts at gun control, including the measures most Americans and most NRA members agree with passing such as closing the gun-purchase loopholes, abolishing private ownership of assault rifles, bump stocks* and the size of magazine clips.
Hopefully, after the last of the 17 funerals in Florida, the energy we see now doesn't subside as is so common following most tragedies. This generation can bring about change and truly make America great again, as opposed to being the only country in the world where school shootings occur regularly.
The students have called for a "March for Our Lives" on March 24, 2018. One of the student's, Cameron Kasky, explained "My message for the people in office is: you're either with us or against us. We are losing our lives while the adults are playing around." Also a peaceful student walkout is planned for April 20, 2018 to bring attention to gun violence on the 19th anniversary of Columbine where 12 students and one teacher were shot to death.
Our hats are off to these students and all others who join in the fight. Regardless of your age, you can be the change you want to see.
*Federal legislation went into effect in March, 2019 banning possession of bump stocks. Conviction may bring up to ten years in prison. A bump stock is a device attached to a weapon enabling it to fire rapidly like a machine gun. The Supreme Court declined to put the ban on hold.
Photo by Win McNamee via Getty Images
Find great resources in our
---