What happens if you get caught shoplifting?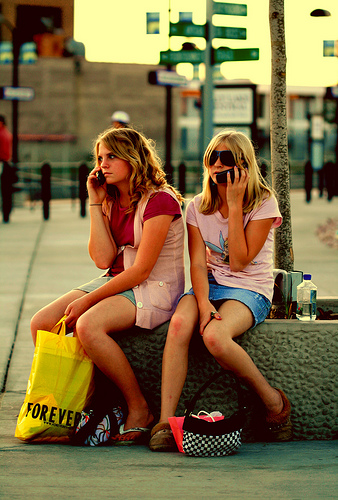 One question on AsktheJudge concerns the possible consequences for teens and tweens who have been caught shoplifting. Check out the example scenarios below and find out who could be cited, arrested and/or charged with shoplifting. If you want information specific to your case, please feel free to ask Judge Tom. Just use the comment section below or the Ask Box in the right sidebar.
Scene One: After school, Julie, Colin, and Matt stop at the local store for a snack and something to drink. Julie is by herself for a few seconds, and she slips a pack of gum into her pocket, knowing that she doesn′t have enough money to pay for all of the items she wants. She pays for her chips and drink and leaves the store with her friends.

Scene Two: Julie, Colin, and Matt only have 60 cents between them. They stop at the store, and while Matt keeps the car running, Julie and Colin enter the store. While Colin distracts the clerk, Julie puts a six-pack of beer in her backpack. They leave the store and begin to party at a nearby park.
Shoplifting is defined as taking property that′s displayed for sale, without paying for it. It′s a crime with both civil and criminal penalties. It′s also a crime that requires intent. If you were shopping and put something in your pocket, continued shopping, went to the checkout and paid for everything but the item in your pocket, you could be questioned about your intentions.
If it turned out that you had the money to pay for the item and didn′t act or look suspicious during the incident, you would probably be allowed to leave. Otherwise, you could be held for further questioning or for the police.
Scene One above presents a different picture. Julie knew that she didn′t have enough money for everything she wanted, so she stole the gum and paid for the rest. This is shoplifting, and since her friends didn′t know or play any part in the incident, they would be free to go if caught by the store owner.
Scene Two is your classic "beer run," where all involved know exactly what′s happening and what their role is. Just because Julie took the beer doesn′t mean the others won′t be prosecuted if caught. Under the law, anyone aiding a crime shares full responsibility, just as if he or she had actually committed the act. Julie, Colin, and Matt could all be charged with shoplifting and possession of alcohol.
In many jurisdictions, a store can collect a civil penalty, plus the cost of the item taken, from the shoplifter or his or her parents. For example, the civil penalty for the stolen six-pack could be $100, plus the retail cost of the beer.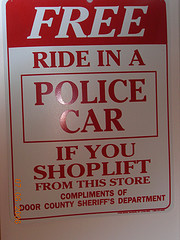 If you're caught shoplifting, the police could refer the case to the local prosecutor who decides whether to file charges or not. First-time (or first offense) shoplifters usually go through a diversion program, which includes counseling, community service hours, and restitution. If you′re caught a second time, probation may be considered, with specific terms set by the court including time in detention. If you continue to steal, you could be sent to the state department of juvenile corrections.
Read here about 12-year-old Chris Moss who took $20.00 from his father's wallet. Although not shoplifting, stealing is stealing regardless of the title it's given: theft, larceny, embezzlement, etc.
Find great resources in our
---