What if I damage someone else′s property?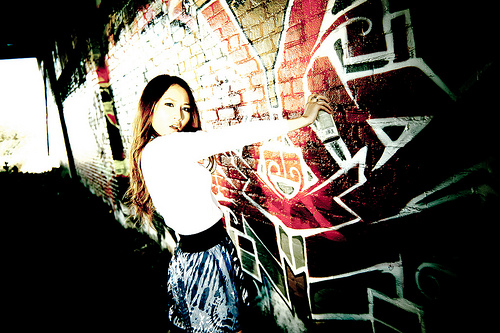 If you damage property, it makes little difference whether it was a car, home, school, or business. And it doesn′t matter whether the act was intentional or not. The issue becomes one of accountability and restitution. If the act is intentional or malicious, it′s called vandalism, which is a misdemeanor or a felony, depending on the amount of damage. Otherwise, it′s called criminal damage.
In 2003, 107,700 juveniles were arrested for vandalism. But most cases of property damage are accidental or careless. Some states set a limit on how much your parents have to pay for your acts of property damage, but it may be as high as $10,000. Other states have no limit, which means that you and your parents are responsible for paying for all damages.
Defacing property means marking, scratching, or painting (tagging) property that doesn′t belong to you without the owner′s permission. For example, if you spray-paint graffiti on your neighbor′s car or fence, you′ve broken the law and are responsible for the repairs. Some cities are putting taggers to work removing or painting over graffiti.
States with major graffiti problems have passed laws that have serious penalties. In California, a second offense carries a $1,000 fine and six months in jail. If the child is unable to pay the fine, his or her parents are responsible. Texas has a similar statute. Rhode Island limits the use and possession of spray paint to those over eighteen, unless approved by the parents. Graffiti artists in Florida may lose their driver′s license for up to one year.
In January, 2011, police officer Cody Chapelle of Kentucky was suspended for 15 days for issuing a ticket to a 7-year-old boy. In October, 2009, the boy was playing in his front yard when his ball hit the officer's personal vehicle. No damage was done but Chapelle yelled at the boy and accused his mother of being a bad parent. Then he gave the boy a citation for criminal mischief in the third degree. He stated his intent was to get the mother to discipline her son. After a lengthy investigation the charge was dropped and Chapelle was disciplined. "One of our greatest attributes we have as police officers is common sense. [He] showed absolutely no common sense," commented Chapelle's superior.
In May, 2018, a fifteen-year-old from Oregon was ordered to pay restitution in the amount of $36,618.000.00. That's right: 36 million dollars!! Referred to in court documents as "A.B.." the juvenile admitted to tossing two fireworks into a canyon in the Columbia River Gorge. Flames spread quickly and burned 75 square miles including homes and destruction of a major tourist attraction in Oregon. He pleaded guilty to reckless burning of public and private property and other related crimes. He  has ten years to make payments and complete community service and probation. The high figure was based on the cost of fighting the fire, repair and restoration to the gorge and damage to homes.
On the lighter side, not all graffiti is bad. In February, 2008 the National Portrait Gallery in Washington, D.C. put on display four 20-foot-long graffiti murals as part of the Smithsonian's "Recognize! Hip Hop and Contemporary Portraiture" show. The underground street art of well-known taggers, Tim "Con" Conlon and Dave "Arek" Hupp exemplifies graffiti's influence on modern art and that cultural expression doesn't always have to conform to conventional norms. 
Find great resources in our
---