Cell phone catches teacher beating student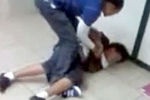 Isaiah Reagins was a student at Jamie's House Charter School in Houston, Texas.  On April 29, 2010 he was assaulted in his classroom by his science teacher, 40-year-old Sheri Lynn Davis.  Another student filmed the incident on his cell phone.
The video shows Davis shoving, kicking and dragging 13-year-old Isaiah across the classroom floor as he apologized for whatever he had done and tried to protect himself.  He suffered a black eye and other bruises in the minute-long attack.
It is reported that Davis said she was sorry and was "without excuse" for the beating.  She was fired the following week and has since been sued by Isaiah's mother. In June, 2010, she was charged with injury to a child, a third-degree felony.  If convicted Davis faces 10 years in prison and a $10,000 fine.  Three others at the school were also charged with failure to report child abuse, a misdemeanor.  If convicted, the school superintendent, principal and another teacher face up to one year in jail and a $4,000 fine.
Every state has mandatory reporting laws requiring specific people to report child abuse and neglect. Those in positions of care and responsibility for children are included.  For example, dentists, nurses, chiropractors, psychologists, school personnel and doctors are often included in those who, under penalty of law, must report incidents of abuse to Child Protective Services within a certain number of hours after suspecting abuse.
For more about failure to report, click here.
Find great resources in our
---