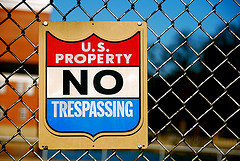 The definition of trespassing is entering or remaining on someone′s property without permission. You′ve probably seen these signs like "Private Property", "Do Not Enter" and "No Trespassing" on vacant lots, wooded areas, abandoned houses or near factories. If there′s a sign posted (whether you see it or not), or if you′ve been told by the owner not to be on the property, this is considered adequate notice. Disregarding these rules can result in a charge of trespass, which is a misdemeanor.
In Hawaii, no minors are allowed in dance halls where paid partners are available.
If you′re caught peeking into someone′s window in South Dakota, you′ll be explaining why to a judge.
If you′re under 16 in Washington, you must be with a parent or guardian at an outdoor music festival. If you′re not, you could be charged with trespassing and/or a curfew violation, depending on the time of day.
It′s not always necessary to post a "No Trespassing" sign. If the owner of the property or a security officer tells you to leave and not return, that′s enough notice . If you return, you′re trespassing. If you′re disruptive at a mall and a security guard tells you to leave and not return, you must do so. As long as you′re not excluded based on race, gender, religion, or disability, the restriction placed on you is valid.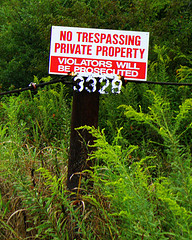 Other places that are off-limits include mines, railroad cars and tracks,and fenced commercial yards. If a property is fenced, it′s a good indication that you need permission to be there. This includes fenced property in rural areas where you might want to hunt or target practice. Places that aren′t as obvious include your neighbor′s yard or pool, school grounds when school is out, or church property and parks when they′re closed. Someone′s car or garage are off limits, unless you have permission. If you′re ever in doubt about whether you′re trespassing, keep your eyes open for posted signs or ask for permission from the property owner.
Find great resources in our
---